About Us
---
Credit Union History
A credit union is a not-for-profit co-operative financial institution that is owned and controlled by its members, through the election of a volunteer Board of Directors elected from the membership itself. Only a member of a credit union may deposit money with the credit union, or borrow money from it.
A credit union differs from a traditional financial institution (banks, savings and loan, etc.) in that the members who have accounts in the credit union are the credit union's owners. Since a credit union is a co-operative institution, its policies governing interest rates and other matters are set to benefit the interests of the membership as a whole; for example, credit unions often pay higher dividend (interest) rates on shares (deposits) and charge lower interest on loans. Credit union revenues (from loans and investments) do, however, need to exceed operating expenses and dividends (interest paid on deposits) in order to remain in business, and this excess is used to expense loan losses and build capital.
Credit unions offer many of the same financial services as banks, including share accounts (savings accounts), share draft (checking) accounts, credit cards, and share term certificates (certificates of deposit).
USPLK Employees Federal Credit Union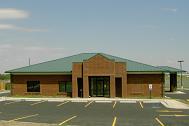 Although our services are similar to a bank, our philosophy is quite different. As a member-owned, non-profit financial institution, our credit union is run strictly for the benefit of our members. We strive to provide members with higher yields on savings and lower rates on loans. Decisions are made by a Board of Directors, elected by our membership. Our goal is to help each member attain a strong and secure financial future.
USPLK Credit Union is a member-owned financial institution whose purpose is to promote the financial well being of its members by providing services in a professional, personal, and competitive manner.